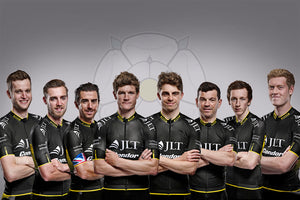 Team manager John Herety selects experienced team for Tour of Yorkshire (29 April - 1st May)
JLT Condor p/b Mavic, Britain's longest standing professional cycling team, have already rung up a number of strong victories this season with young rider Stevie Williams taking third in the New Zealand Cycle Classic ahead of One Pro Cycling's James Oram, whilst sprinter Chris Lawless was the first British rider to notch up a UCI win of 2016.  Russell Downing and Conor Dunne both scored UCI race wins in the last two weeks at the Tour de Loir et Cher (UCI 2.2) and Rutland-Melton CiCLE Classic (UCI 1.2).
Tour of Yorkshire Selection
Russell Downing
Conor Dunne
Chris Lawless
Steve Lampier
Tom Moses
Graham Briggs
Steve Williams (U23)
Ali Slater
Team Manager John Herety admits it will be a tough race and although the opening stages are billed as sprint days he noted that local knowledge will come in handy on the lumpy narrow roads.
"There are big teams who will be looking to take the overall, the race has grown and its a star studded line-up.  We want to upset the apple cart, we want to get in a breakaway on stage 1 and 2 and be visible and win sprint bonus points.  Then focus on supporting young rider Stevie Williams on stage 3.  Stevie has shown this year in the Tour of Taiwan and Tour of New Zealand he has the ability, even at 19 years old, to climb mountains and attack" - John Herety, Team Manager.
JLT Condor p/b Mavic boast three riders from the region, Russell Downing, Tom Moses and Graham Briggs.  Yorkshire star and team rider Ed Clancy, MBE was not selected to ride the race as he continues his rehabilitation following a career threatening back injury.  "Ed rode his first road race in seven months last weekend, and performed really well.  It was a very tough decision not to select him." explained John Herety. 
Yorkshire based riders Tom Moses and Graham Briggs from the squad shared their excitement about the forthcoming race:
"Nice to be back on familar roads on stage 1, last year it was a big advantage knowing exactly what's coming up and having a home crowd" - Tom Moses. Keighley, West Yorkshire.
"It's all about stage 2 for me, finishing in my home town is going to be amazing and I know the effort the town and the surrounding villages have gone to - it's going to be very exciting." Graham Briggs. Doncaster, South Yorkshire.
TV Live - ITV4 & Eurosport everyday 14.00-17.00 (GMT)
---