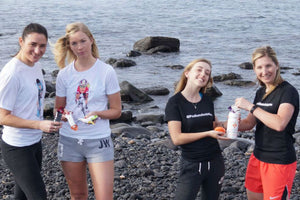 New partnership with Podium Ambition Pro Cycling powered by Club la Santa.
We are delighted to announce our partnership with the super-talented Podium Ambition Pro Cycling Team. We will be working with the new women's team across the 2016 season, providing them with all the STEALTH nutrition they need to fuel their immense volume of training and racing, along with 'monthly rider care packages' to ensure they stay in tip top condition.
The team makes their professional debut in 2016, coinciding with the launch of the UCI Women's World Tour. Not wanting to limit themselves to a single discipline, the team will cover road and criterium; right through to time trial and track racing. So they will certainly be keeping very busy – it's already clear that these ladies don't stop much!
Perhaps their aims can be most clearly defined as threefold, these are as follows:
To inspire and increase the number of women participating in cycling across the UK.
To obtain WWT status and essentially make themselves known on the world circuit.
Their 'master plan', as such, is to qualify to race at the World TTT Championships in Qatar on October 9th, which is an exceptionally exciting endeavour and would be a great finale to the 2016 season.
When talking about the new partnership recently, Secret Training Founder Tim Lawson expressed his sincere excitement, saying, "When we heard about the Podium Ambition challenge of qualifying for the World Team Time Trial Championships we knew it was a team we wanted to support with that mission. The team has some of the UK's leading riders on both road and track and are known for developing riders through a strong work ethic and support network. We are looking forward to continuing to grow our brand alongside the growth of this team."
And the girls are just as excited about the new partnership, most notably Amy Gornall who we have supported for the last year, following her incredible progress on the UK cycling circuit.
Amy says, "I have been supported by Secret Training for over 12 months now and was delighted to hear of their involvement with Podium Ambition. The products suit me down to the ground and ensure I am both fuelled for tough training and racing, as well as supporting my recovery."
And even though the season has not yet begun, the partnership is already well underway. On a recent training camp the team sampled our STEALTH range across their training and recovery, in different conditions, and for varying sessions.
As any cyclist will know, nutrition is a fundamental component to any regime, and no one recognizes this more than Podium Ambition rider Dame Sarah Storey. She says, "Secret Training have created their products based on first-hand experience of nutrition demands. Tim designs and develops products he is using himself so as a team we know there will be no stone left unturned in finding the best ingredients for the products we will use."
She continues, "In addition we will be working to provide feedback to Secret Training from a female athlete perspective and this will benefit the other customers of the brand in having confidence they are buying a brand that works for women in sport at the highest level."
It is clear that the team 'means business', and will certainly be taking the 2016 cycling circuit by storm. We are very honoured to be a part of this exciting journey, and look forward to working with them across the next twelve months. To find out more about the Podium Ambition Pro Cycling Team visit their website, or follow them on social media - @PodiumAmbition.
---