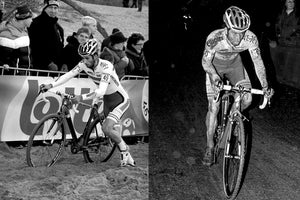 End of Season Review 2013
21 races done, Finishing the season UCI World Ranked 30th, 22nd overall in the UCI World Cup including 2 top 20's, 3 UCI race wins including my 3rd consecutive British Championship title.
Sat here now it feels like it was a long season, which left me both physically and mentally drained but on the other hand it doesn't seem all that long ago I was sat planning my race schedule back in my mid-summer break last July. The season was action packed with a race more or less every weekend throughout the months of October to FebruaryAlong the way were high's and low's but I have to say the high's definitely outweighed the low's this season!
I made a number of changes going into last season and one of them was to start working with 'Secret Training' a company specialising in warm up oil's, chamois cream and other skin related products. With the extreme nature of Cyclocross taking place in ANY conditions throughout the winter months of northern Europe it would be the ultimate test for the company's products which were very much in a development stage. I had not taken the decision lightly to use their products seeing as keeping the cold out during awful conditions can be a make or break moment during a Cyclocross race. However with the guys involved with the company I knew the products would be good and if they were not up to scratch that would soon change with detailed feedback.
With a warm start to the season in September at the opening UCI race of the year in Europe at Erpe-mere, Belgium it was a little while before the products got a proper test. But it wasn't long before it was horizontal rain and brutally cold conditions at the opening Bpost trofee of the year in Ronse. It was one of those days where the wind and rain never let up all day. Using both the chamois cream and the warm up oil from Secret training helped massively. Even after the race getting changed my legs were not too cold and with the protective element of the oil working really well in the wet conditions, I immediately knew I wasn't going to have to worry about wearing leg or knee warmers in wet conditions in the coming months which is always good. Often in really wet conditions people wear leg warmers as its 'cold' however very often they just soak up the water and make things ten times worse in terms of how heavy your legs feel and how cold you actually get.
Results at this point in the season were distinctly average, however with my main focus of the season being much later with the opening World Cups I tried to keep a level head and remember the bigger goals of the season.
World Cup Round 1, valkenburg, Holland. 19th @2.38. On a super hilly course I achieved my second best World Cup result of all time, riding through the field to achieve a top 20 at a World Cup gave me a massive confidence boost.
Just 6 days later was Round 2 Tabor, Czech republic. After the long drive to a course I knew really well I was looking forward to another tough race on a hilly course. 18th @1.38, one place higher than last time out and over the moon. Going into the last lap I was in the group going for a top 15 finish as my mechanic said at the time 'we were proper bike racing'.
A further 6days later saw me back in Belgium facing the infamous Koppenberg Cross. For many this is the second biggest Cross of the year behind the World Championships. There is always a good opportunity at this race to get a really good start if you have a bit of luck and the legs to make the most of the first climb up the cobbles. I hit the front of the race leading off the cobbles onto the first off road section. I was leading the Koppenberg in front of 40,000 spectators. I continued to lead for another lap and a half picking up the bonus sprint points along the way. After 35mins of racing I was still in the group going for second, bumping shoulders with Sven Nys and such like. The last 10mins or couple of laps is when it really hurts in Cross. I was in the group going for 9th, bang, puncture just after the pits. I ended the race 13th, @1.19 obviously super happy but a little part of me now sat here is wondering what if. I had a day to let things sink in before Zonhoven, the first real sand race of the season. Chamois cream is vital for this race as the sand literally gets everywhere! I rode an entirely different race to the Koppenberg, getting an average start but then riding through the field like I have never been able to before. I ended up 14th, 2 top 15's in 3 days in the biggest races in the World. The chamois cream worked a treat and after what can be a very uncomfortable race in more ways than one I was more than happy with all the products.
After a weekend off I was revitalised for the next races in Belgium a double header weekend. A couple of average top 25 rides were banked. One of which was in extremely muddy conditions and gave me a great chance to try out a new product I had received. Sports wash with a specific cloth for removing dirt and grime. It was great for removing the oil from my legs and left me feeling refreshed even before I had chance to take a shower in the camper. It saved a bigger mess than what was already created in the camper being able to have a quick clean up outside before I warmed down. Another small advantage to using the products which cannot be measured but for sure makes a difference if only for morale.
The season continued with another top 30 at the Koksijde World Cup cementing my place in the top 20 overall before a brief visit back to the UK where I picked up a couple of UCI wins to help the points tally. Next up was the Christmas period, 4 races for me in 7 days, 2 World Cups to hang onto my top 20 overall and Christmas day spent in the camper eating Spag Bol for tea. Part of being a Professional Cross rider who isn't a Belgian native. One of the World Cups in Namur took part in awful conditions, high winds and driving rain. Once again the warm up oil did a great job in keeping the water and cold out. So important especially with back to back races where illness can be a big problem if you get run down by the extreme conditions.
New year came and went but there was no rest bite, a quick trip to Rome for another top 30 World Cup placing in conditions which were more suited to water polo and then it was back to the UK for the National Championships in Derby. Mud, Mud and more Mud. If a single day summed up why you need great skin products this was one of them. Extremely muddy conditions and liquid mud in places made things more than tricky in a number of ways. I managed to win my 3rd consecutive title, job done.
After the Nationals is was the final push, finishing off the World Cup series in Nommay, France. Securing my best ever overall position in the competition, 22nd, finishing the World Championships in 29th my equal best result at a World Championships but with the race being held in Europe this time a much tougher field was present compared to when in the USA.
I rounded off the Bpost series and my season in Oostamalle, Belgium on the 23rd February. Very pleased and content with a great season of standout performances and looking forward to working hard throughout the summer so I can make another step next season. The products from Secret training were very much a part of this success and it was a great experience being able to give feedback on such products so we could get the most out of them. Until next time, Ian Field.
---